Promote a Positive Work Environment

Emotional intelligence is the capability for individuals to:
Recognize their own emotions and those of others,
Discern between complex feelings and label them appropriately,
Use emotional information to promote unbiased thinking and optimal behavior, and
Manage emotions to achieve goals and master environmental adaptation.
The Emotional Intelligence (EIQ-2) Report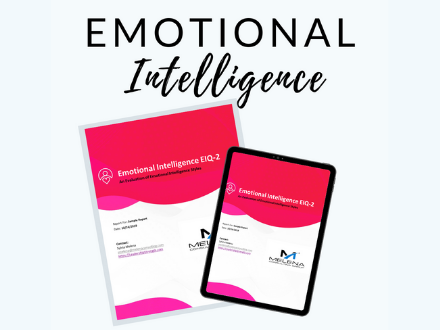 The EIQ-2 Report yields:
A robust 32-page report,
Five sections with infographics for ease of understanding,
Variable and detailed user-specific data for each of the four EI Quotient sections, plus 20 subcategories,
Qualitative analysis,
Recommendations for development in each of the 20 subcategories
Grab Your Sample EIQ-2 Report
Download a sample of the EIQ-2 Report to get a complete view of the possibilities for your team.
Ready Buy Now?
See the assessment in our online store.
Get in Touch
Want to know how Emotional Intelligence can help you create a positive workplace? Send me a quick message, and I'll get in touch within one business day. — Sylvia Melena

Develop Leaders. Value People. Achieve Results.