Let's face it.
Some employees feel difficult to work with.
We don't understand them, and they definitely don't understand us.
And if we're honest, sometimes they rub us the wrong way, and the feeling is mutual. Unfortunately, these workplace personality clashes take a toll on well-being and performance.
But there's a simple, evidence-based tool that can help you get over that hurdle. It's called the DISC Model, and it focuses on needs-motivated behavior and emotion. It helps you increase awareness, understanding, and adaptability and takes the frustration out of working relationships.
In fact, relationships become rewarding.
The Four DISC Styles
There are four DISC styles in the model:
Dominance
Influence
Steadiness
Conscientious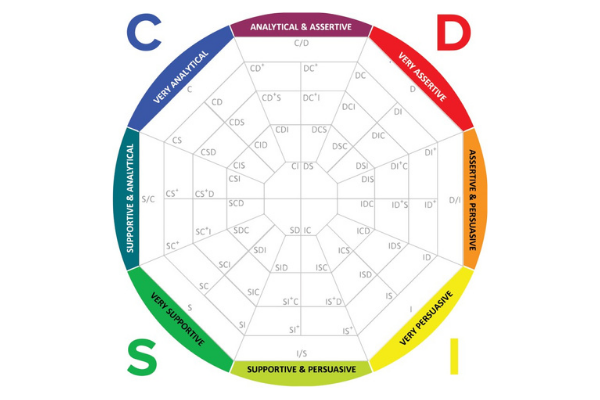 You can find more information about the styles and their unique characteristics in my post, The Four DISC Styles of Leadership Communication.
Ways to Identify the DISC Styles at Work
There are two ways you can identify the DISC styles of people in the workplace. The first involves observation and analysis. The second requires the administration of the DISC Assessment.
Observation and Analysis
If you're not quite ready to assess everyone in the workplace, or you need to identify someone's style quickly, you can use observations.
You can reflect on observable behavior and emotion to discover your most likely DISC style and the styles of others in the workplace.
Here's how it works.
Leveraging the Four Quadrant Model
DISC is a four-quadrant model, determined by the two factors: communication directness and openness. These two factors are called Behavioral Tendencies.
I briefly covered DISC Behavioral Tendencies, Areas of Focus, and Pace and Priority in my post on The Four DISC Styles of Leadership Communication.
But in a nutshell, the graph below depicts the Behavioral Tendencies, or the two factors of directness and openness. Directness is pictured on the horizontal axis (direct and indirect). Openness is depicted on the vertical axis (open and guarded).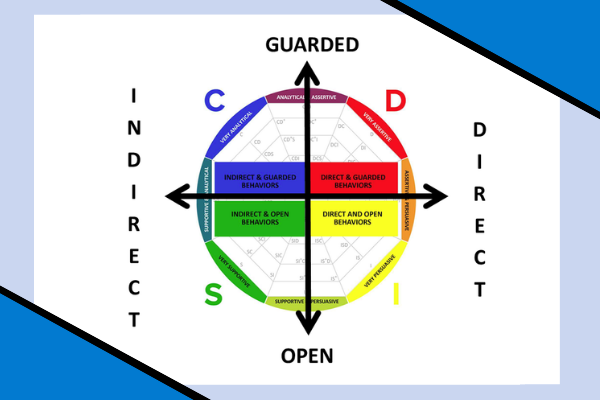 The Two Powerful Questions
To identify a person's most likely DISC style, you can use the graph above and ask Two Powerful Questions. This short, two-minute video shows you how.
The DISC Assessment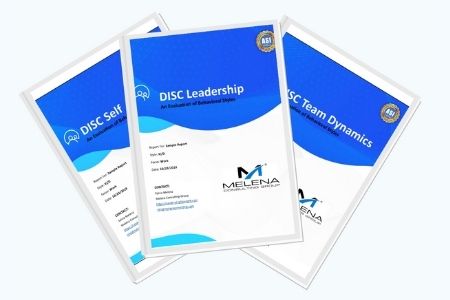 Observations and analysis can give you a good indication of people's DISC styles. However, the DISC assessment is the most reliable way to identify DISC styles in the workplace.
The assessment only takes about 10 to 15 minutes to complete and yields a robust report that can be used to improve communication and workplace relationships.
The assessment focuses on individual patterns of external, observable behaviors and measures the intensity of communication characteristics using the scales of directness and openness for each of the four styles.
Based on Dr. William Moulton Marston's research, DISC is the most widely used behavior profiling tool of its kind, supported by decades of research and validation.
I provide a wide array of DISC Assessment Reports, depending on your goals.
DISC Self
DISC Self is designed for all staff. It's perfect for people who don't supervise or lead others but can be used with everyone on your team, including leaders.
DISC Leadership
However, for people that lead and supervise others, I highly recommend using the DISC Leadership Assessment, as it's designed to strengthen skills in the areas of:
Leadership communication,
Performance management,
Employee motivation,
Coaching,
Conflict management,
Team leadership, and
Much more.
Using the DISC Assessment, it's easy to identify your leadership communication style, recognize and adapt to other people's styles, and communicate more effectively to achieve results.
DISC Self and DISC Leadership are based on responses provided during self-assessment. However, I also provide the DISC Leadership 360º.
DISC Leadership 360º
This 360º leadership survey allows you to gather and analyze the collective perceptions of how others view your leadership communication approach.
Often, the way we perceive ourselves may not align with the way our direct reports, colleagues, bosses, and other stakeholders perceive us. The DISC Leadership 360º can help you and the leaders you supervise take off your blinders and get a big picture view to help you grow and become stronger leaders.
Managers and supervisors often persist in communication and organizational practices believing everyone recognizes their "obvious" intentions, overlooking costly misinterpretations that stem from different behavioral styles. Those challenges lead to unfortunate workplace inefficiencies that are difficult to resolve.
DISC Leadership 360º pulls "observer data" from leaders' colleagues and employees, providing leaders with an informed "self-audit" to eliminate workplace miscommunication and improve supervisor-employee relationships.
To complete the DISC Leadership 360º, you must have a minimum of 5 respondents. There is no maximum, as you can elicit feedback from an unlimited number of respondents.
Certified by the Assessment Standards Institute (ASI)
The DISC Assessment instrument I use in my practice is Certified by the Assessment Standards Institute (ASI).
ASI provides verifiably objective testing and reporting that meet the standards established by the American Psychological Association and the Equal Employment Opportunity Commission.
ASI's battery of tests is both voluntary and transparent.
---
People are multi-faceted. They have different priorities and needs. These differences can be a major source of conflict at work, but it doesn't have to be that way. When you leverage the DISC Model to understand employees' needs-motivated behaviors and emotions, you're on your way to building a better workplace.
---
About Sylvia Melena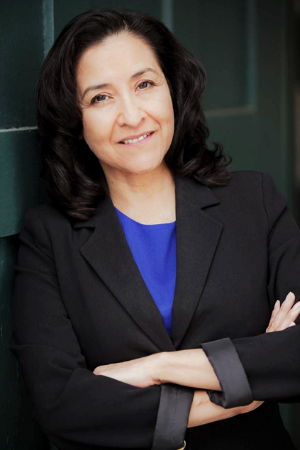 ---
---